HUES News
2 months ago
Scholastic Book Fair
Get ready to celebrate the love of reading with our upcoming Scholastic Book Fair! We hope you can join us! Our book fair at the Houston Upper Elementary School will be held in the library from October 21 – October 25. Students may shop during their regularly scheduled library time that week. Our parent night for the book fair will be Tuesday, October 22 from 4:00 P.M. – 7:00 P.M. Thank you for encouraging our young readers! We look forward to seeing you! Mrs. Alford, Librarian
PBIS Tier 2 Model School
Congratulations to Houston Upper Elementary for achieving PBIS Tier 2 Model Site status.
Our School Has SWAG (Students Who Achieve Goals)
Houston Upper Elementary will begin its annual Drug Awareness & Red Ribbon Week on October 22 thru October 26.
Monday-- "I Love My Drug Free For Selfie". Wear red.
Tuesday-"Be Someone's Hero! Stand Up to Bullying." Wear orange.
Wednesday-"The Symbol of Hope, The Color of Strength." Wear pink.
Thursday-"Strong Together Against Bullying & Drugs". Wear Maroon & White
Friday- "Say Boo to Drugs". Dress as your favorite book character.
By: Selena Buchanan, Clara Boykin, Chloe Sintikakis
Time Just Flew Right By
Houston Upper Elementary just took their state tests and it seems that the time just flew right by. We all are now finished with our state tests and almost finished with school, but state tests are not what school is all about. Sure state tests play a big role, but school is not just about that. It is also about the learning that leads up to it. We have all done a great deal of learning this year and we are sure we will next year as well.
Ready for the SUMMER!!!
I am sure we are all ready for the summer, and you are in luck because summer is just a few days away. Your teachers will miss you, and you will miss them also. Teachers need a small break from having all of those kids around, and the students think they need a break from learning (though they have a break every weekend). We just wanted to wish everyone good luck next year and have a great summer!!

Hues Kickball TOURNAMENT.
Houston Upper Elementary School will begin its annual Kickball Tournament on February 9, 2018. The championship game will be on February 16, 2018. Donation $1.00.
Online Testing.
Online Test
Fun Day at Topper Zone
HUES took all the students with perfect attendance for the month of November to the Topper Zone. By recognizing students with perfect attendance, HUES reinforces that strong attendance habits are valued.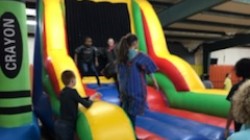 HUES named National School of Distinction
National Beta announces Houston Upper Elementary as a 2017-2018 National School of Distinction! This award is an honor for Beta Chapters striving towards academic achievement, exemplary character, demonstrated leadership and service to others and who increase their membership by ten or more percent. Pictured are the 4th and 5th graders, shown with their sponsor, Lysbeth Parker. HUES recently inducted 61 students into the Jr. Beta Club for a total of 93 students.
Hurricane Relief Project
The Houston Upper Elementary Jr. Beta Club is sponsoring a hurricane relief drive. Many families have been devastated by the recent storms, and we would like to give a helping hand. The devastation is overwhelming. There are some who lost all of their material possessions, including their homes. We have reached out to people in the Houston, TX area who have been affected to ask for advice on the items that are most needed.
We are asking for donations of the following items:
Shampoo

Soap

Toothpaste

Toothbrushes

Deodorant

Hand sanitizer

Toilet paper

Laundry detergent

Cleaning supplies

School supplies (pencils, paper, folders, markers etc…)
If you are able to support our relief drive, please send any of the above items with your child from now until September 29th. If your child is unable to carry your donations, please feel free to deliver them to our school office.
Thank you in advance for your contribution.
New Faces at HUES
Please join us in welcoming the following new staff members to Houston Upper Elementary:

Hope Stantz ~ Librarian
Haley Ard ~ 3rd Language Arts
Hanna Warn ~ 3rd Math/Science
Laura Pepper ~ 5th Grade
Linda Cousins ~ 4th Math/Science
Emily Porter ~ Speech
HUES's Third Grade "Reading Gate" Is A Success
Congratulations to Houston Upper Elementary Third Graders for a superb job on the 3rd Grade Reading Summative Assessment. HUES third graders had a passing rate of 98.1 percent this year which is the highest percentage of the last three years. Houston School District had the 4th highest passing percentage in the state!
HUES would like to thank the third grade parents for their support. Special thanks to the third grade reading teachers: Mrs. Angela McFarland, Mrs. Lori Moore, Mrs. Morgan Moss, Mr. Nathan Newell, and Mr. Rimmer; and the RtI Coordinator/ Interventionist, Mrs. Rebecca Wortham, for all their hard work and effort in helping these students to be successful.
Accelerated Reader Awards Program
Houston Upper Elementary is proud to be an "Accelerated Reader" School. Pictured below are the elementary students who were recently honored at an Accelerated Reader Award Program.

The Accelerated Reader program, known as AR, is a program that allows students to read books on their reading level and then take computerized reading comprehension tests to earn points. Each book is worth a certain number of points based on its length and reading level.
Houston Upper Elementary students earned cash prizes for reading, thanks to PACE, Partners in Achieving Community Excellence. Tom Byrne, PACE treasurer, presented cash prizes to third, fourth and fifth graders, ranging from $5 - $50, to the top 10 point earning students in each grade, giving out a total of $455.
Lysbeth Parker, librarian, runs the AR program at HUES. She keeps a point board outside the library and puts students' names on it once they earn 10 or more points on the AR tests, updating it monthly.
Houston Upper Elementary School Overall First Place Accelerated Reader with 207.2 points was Dixie Ellison pictured below with Mrs. Parker.
L
Read Across America

NEA's Read Across America Day is a nationwide reading celebration that takes place annually on March 2—Dr. Seuss's birthday. HUES celebrated Read Across America by having special guests visit each class and read to the students.
Mr. Trevor Hampton would like to thank each guest for participating and helping to make this year's Read Across America Day a success.
Ann Landrum Mildred Slaughter Serena Kilgore
Ruth Hodge Julie Springer Lisa Johnson
Sharon Vance William Cook Jason Brassfield
Desiree Abrams Daniel Heeringa Lori Harrington
Lori Harrington Cara Chislom Joanne Whitt
Jared Roberts Shenia Jones Steven Vicars
Todd Stanton Tony Cook Norma Kilgore
National Beta Week

HUES Jr. Beta Club will participate in National Beta Week during the week of March 6-10, 2017.
"Make Your Mark" Monday
Students are encouraged to write on a "make your mark poster" to document how they have made a positive mark on the school, in the community, or with friends/family.
"Tell About It" Tuesday
Students will share and learn what Beta is all about.
"Work With Others" Wednesday
Students are encouraged to help others out at home, school, and in the community.
"Think About Growth" Thursday
Students will make a personal growth plan. Students are encouraged to do what it takes to achieve their goal.
"Feature Beta Spirit" Friday
The National Beta Club colors are gold and black. Students are asked to wear black, gold, or yellow to show "Beta Spirit".
HUES Jr. Beta Club

Houston Upper Elementary is proud to announce the establishing of HUES Jr. Beta Club. Membership is open to any fourth or fifth grade student who maintains A's and B's on each report card and exemplifies good character. This year invitations for membership were issued to sixty-two students who met eligibility criteria.
We would like to recognize and congratulate the following members of HUES Jr. Beta Club.
Alexis Audette Clara Boykin Haylee Byars
Kimble Clouse Katelyn Collins Sara Cook
Steven Cook Tyler Davis McKenna Diaz
Haley Ellison Lizbeth Espericueta Nathan Ford
Janaisha Free Rhett Goode Eli Griffin
Kinley Hallmark Millie Herringa Taylor Higginbotham
Dakeira Ivy Cameron Kilgore Hayden McManus
Dora Murillo Mark Murillo Tracy Neal
Carmen Owen Jaxon Paras Chloe Sintikakis
Emma Smith Langley Smith Rialey Gage Tucker
Brandi Unruh Jose Varela Bryanna Ward
S.H.O.P Expo at HUES
This coming Friday, November 18, 2016 is the annual S.H.O.P. (Students Helping Others Planet wide) Expo at the HUES gym from 10-2. We are raising money to help our local chapter of Dream Riders Biking for Children. The students have already participated in a can drive, and the United Blood Services blood mobile will be at the school on Friday.
HUES New Staff
Please join us in welcoming the following new staff members to Houston Upper Elementary:
Trevor Hampton, Principal
Beth Brandon
Patricia Geiss
Taylor Gurley
Kimberly Hardy
Nathan Newell
Michelle Rish
Sandee Tutor
Katylynn Wright
John Kimball
Bullying Procedures for Processing a Complaint
11 months ago
Procedures for Processing a Complaint
Any student, school employee or volunteer who feels he/she has been a victim of bullying or harassing behavior, or has witnessed or who has reliable information that a student, school employee or volunteer has been subject to bullying or harassing behavior shall report such conduct to a teacher, principal, counselor or other school official. The report shall be made promptly but no later than five (5) calendar days after the alleged act or acts occurred. The school official shall complete a "Bullying/Harassing Behavior" complaint form which shall include the name of the reporting person, the specific nature and date of the misconduct, the names of the victim of the misconduct, the names of any witnesses and any other information that would assist in the investigation of the complaint. The report shall be given promptly to the principal or superintendent who shall institute an immediate investigation. Complaints against the principal shall be made to the superintendent and complaints against the superintendent shall be made to the Board chairman.
The complaint shall be investigated promptly. Parents will be notified of the nature of any complaint involving their student. The District official will arrange such meetings as may be necessary with all concerned parties within five (5) working days after initial receipt of the complaint by the District. The parties will have an opportunity to submit evidence and a list of witnesses. All findings related to the complaint will be reduced to writing. The District official conducting the investigation shall notify the victim and parents as appropriate when the investigation is completed and a decision regarding disciplinary action, as warranted, is determined.
If the victim is not satisfied with the decision of the District official, he/she may submit a written appeal to the superintendent. Such appeal shall be filed within ten (10) working days after receipt of the results of the initial decision. The superintendent will arrange such meetings with the victim and other affected parties as deemed necessary to discuss the appeal. The superintendent shall provide a written decision to the victim's appeal within ten (10) working days. If the victim is not satisfied with the decision of the superintendent, a written appeal may be filed with the Board. Such appeal shall be filed within ten (10) working days after receipt of the decision of the superintendent. The Board shall, within twenty (20) working days, allow the victim and parents as appropriate to appear before the Board to present reasons for dissatisfaction with the decision of the superintendent. The Board shall provide a written decision within ten (10) working days following the victim's appearance before the Board.